White paper download
Traffic Studies Made Simpler: Count and Classification in the Cloud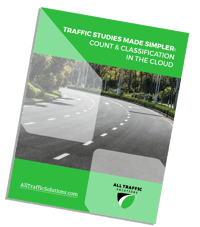 Traffic studies provide information you need to make the right decisions about the safety, efficiency, and effectiveness of your traffic management efforts. But undertaking a traffic study can pose a myriad of tough challenges including cost, duration and time commitment, resources to complete the study, and the safety of the personnel collecting the traffic data.

Does the thought of undertaking your next traffic study make you break out in a cold sweat?
This white paper includes:
How the Internet of Things makes it possible to remotely monitor your data collection efforts
The new counter classifiers you install next to that busy road, not on it
The importance of cloud-based traffic management systems that let you access data in one place, from anywhere
The web-based traffic management ecosystem that lets you manage your devices and data from any Internet-ready device
A case study that tells how the Missouri Department of Transportation was able to complete their traffic studies without endangering workers or taking hours out of the field
Learn how you can make your next traffic study run smoothly, safely and in less time than ever before.